- lun mag 14, 2018 7:11 am
#5494
The 3D-print shops and designers of this world believe we should be able to this at some point and, in fact, companies like Local Motors – a Mouser partner in the Essence of Autonomy Challenge² – are already pushing the envelope in terms of what is possible when it comes to 3D printing as much of a car as possible, while also furthering automation. That's no small effort. A modern car typically sports around 20,000 individual components, assembled by a choreographed symphony of machines, each dedicated to a single function (plus a few humans for oversight and servicing).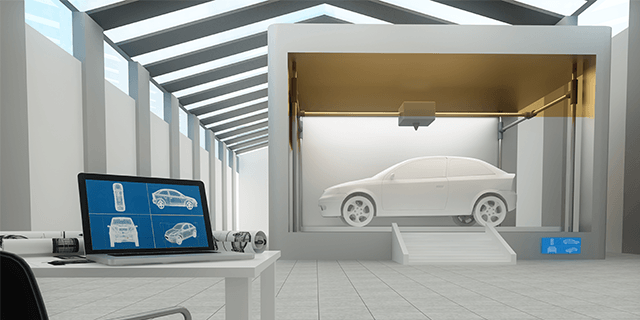 Different automotive parts are made from different materials, in varying shapes and thicknesses, not to mention levels of complexity. Then there are the computer and electrical systems, the engines, the batteries. So one cannot simply press a button and have a car printed in one go. Indeed, a traditional assembly line could make a hundred vehicles at a time, while even the most advanced 3D printers of today and the near term future would be restricted to printing just one. And yet, that is the dream.
One could, for instance, start with a stock vehicle body, and add to it. Manufacturers could theoretically develop a controlled CAD system where users could add to the car's chassis, but not subtract from it. The software could even do virtual wind tunnel performance testing to determine how the body additions would affect performance, and automatically ensure that hoods, doors, gas tank doors, windows, and more would still function, and account for things like windshield wipers, side view mirrors, sun-roofs, and more.
"The last year or two there has been a major focus on new materials and the process cars can be printed with. Everyone is realizing that a lot of the materials today can be optimized and perform much better," said Adam Clark, another consultant specializing in additive manufacturing and engineering design services.
"From a functional standpoint it'll just be metals and carbon fiber, but everybody knows that one day someone will 3D print a car body out of pancake batter," joked Riley, adding that aluminum alloy frames would likely become more prevalent because of their light weight and strength. Today very few car models are aluminum because it is hard to work with in current technologies. Meanwhile, Clark noted that major OEMs are already saying that they expect to be using
3D-printed parts
fairly regularly within two to three years, though he admits that whether or not manufacturers will ever be happy to relinquish control of their designs to general buyer clients is another matter. "What I can see are design options which are approved by the manufacturer," he said.
Breaking Automotive Design Rules
Though some may feel that the above limits the creativity and blue sky opportunities in customization that 3D printing affords, it may be for the best. After all, as many a design expert knows, customers rarely truly know what they want, nor would the vast majority of them be capable of designing something safe and functional for themselves. "Design work should be left to designers" is a common expert refrain.
"Ultimately, despite the technology, people don't want more options, they just want their choice to be available," explained Perry.
The maker generation certainly has access and exposure to the technology from a young age, but that doesn't mean the expectation to make road-safe, quality vehicles is already ingrained. "I see a lot of design rules being broken in the future, but I believe analysis tools will be so powerful that they will automatically build a structure that can withstand the application conditions," said Clark, noting that the overall shape and "feel" of the design will be what the human input will be. What will be cool, however, is the notion that once the machines get advanced enough, and once the kinks have been worked out of the manufacturing, a car maker might be able to print out both a roadster and a minivan on the same machine, just by tweaking the software. And that's not even mentioning the custom add-ons that are already a huge market in current day automotive ware. As 3D printing improves, you can do thousands of "custom" parts more cost effectively.
3d printing automotive parts in chennai
|
3d printing automotive parts in bengalore
|
3d printing in automotive industry pithampur
|
3d printing in automotive industry Tamil Nadu
|
3d printing automotive parts in Lucknow
|
3d printing automotive parts in Durgapur
|
3d printing in automotive industry Vijayawada Andhra Pradesh
|
3d printing in automotive industry Jamshedpur Jharkhand
|
3d printing automotive parts in Rudrapur uttarakhand
|
3d printing automotive parts in Chakan Pune india
The automotive industry might also draw inspiration from firms making prosthetic limbs, in large part through 3D printing. Of course, while the underlying mechanics are all standardized, many companies are trying to offer their customers a limb that reflects their personality. "The rich will always find ways to spend money so I'm sure this will be a thing," noted Riley.
Packers and movers vadodara
|
packers and movers Ahmedabad
|
packers and movers in vapi
|
movers and packers rates in vadodara
|
packers and movers surat
|
car transport service india
|
transportation service india
|
best packers and movers in vadodara
|
Car Transportaion Service in vadodara Gujarat
|
Ware House Service in vadodara Gujarat
|
movers in vadodara
|
Local movers and packers in vadodara
|
packers and movers charges vadodara
Packers and movers india
|
packers and movers vadodara
|
packers and movers Ahmedabad
|
packers and movers in vapi
|
local movers and packers in vadodara
|
packers and movers surat
|
best Packers and movers india
|
packers and movers Ahmedabad
|
packers movers vadodara
|
movers and packers rates in vadodara
|
packers and movers charges vadodara
|
best packers and movers in vadodara
|
movers in vadodara
|
Packers and movers vadodara
|
Movers and Packers in vadodara
|
Packers and Movers in vadodara
|
packers and movers services vadodara gujarat india
|
local movers and packers in vadodara